Many politicians disregard the democratic importance of science as an independent factor for good solutions. How do universities respond to this challenge?
The commercial influence over academia is ever increasing. How do universities respond to this challenge in a post factual time?  Dag O. Hessen, professor of biology, at University of Oslo, recently published his book "Sannhet til salgs" (or "Truth for sale" ) where he brings this dilemma to the table.
The meeting was the first in a meeting series, of the restructured he Bergen Region Knowledge Hub, looking on key perspectives on links between academia and society. The venue was held June 7 in the Bergen House of Literature (Litteraturhuset).
Participants attended, from various academic insitutions from Bergen area.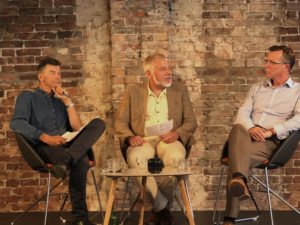 Hessen and Olsen agreed on the need for more involvement from academia in policy development.
Other themes mentioned on the matter was  the relevance critera in research funding
Hessen sees that the problem lies in an over-emphasis on current relevance, leading to less acceptance of the fundamental independent basic research and the need for funding in those areas.
Olsen accknowledged international trends in developing "science advice" mechanisms in various countries and the need for all universities to engage in solving the big global issues.
Looking on marine resource management in Norway and complexities therein, questions were raised in to which extent advice was really used. A "science advice mechanism" is proposed and under discussion between Academies and the government in  Norway.
A video is available on Youtube (Norwegian only)